What is Courage? I Bet You Don't Even Have The 'Courage' to Click This...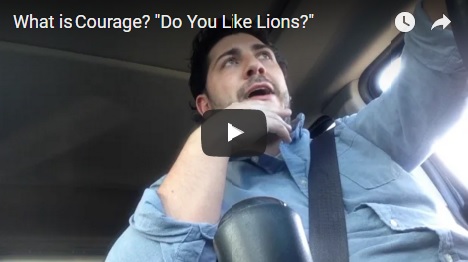 Courage. No, Not The Cowardly Dog.
Oh! So you think your courageous for clicking? It was a mind trick to get you to read..
I know you're already sick of me.. this is the third post in less than 10 days.. What?! Let's discuss Courage. (not the cowardly dog-but that show was weird)
Flashback to 1st Grade #NHS
Let's get back to basics - Courage is a word we learned in the 1st Grade. It was an attribute that set apart #NeatNick from #NastyNed. (We all know the first time we won the award..). Neat Nick was what everyone strived to be, and if he had courage.. you wanted it. #NathanHaleSchool #MrsCuticello
Do You Want to Know How Dumb You Are?
But we see all the time in studies that poll children on a complex question and they're able to reach an answer almost like se
cond nature (like the one to the right) sometimes we start to "learn" how to "adult" and throughout things we learn in childhood. Society "teaches us". Society taints our perspective and begin the aging decay into cynicism. #teenageangst
You Cant Figure it out? Whatever I'm trying to have a Heart-to-Heart.
Luckily my dad is a total BA and I wouldn't think twice if you told him that someone didn't like him and his response was "Quite Frankly, I don't give a damn!". Honestly though, that's one thing I gotta give him, I give him a hard time a lot but he's a good sport and puts up with it. He's one of the most courageous people I know and he is fully confident making the decisions he makes because he has that great quality to fall back on. Love you Big Lou.
Okay so if you didn't think that was enough talking about courage... Here's a fricken YouTube Video of me discussing how you're not living your most courageous life and why you're an idiot for not doing so. (Honestly though, watch this video and tell me you're living your most courageous life. I BEG you to leave a comment and make that claim):
Shout out to boys John Tomms and Joey Jules for troubleshooting this #followforlikes #followforfollow:
Also here is the video that I refer to in my YouTube Video (NSFW):