How To Make Mondays NOT Suck #40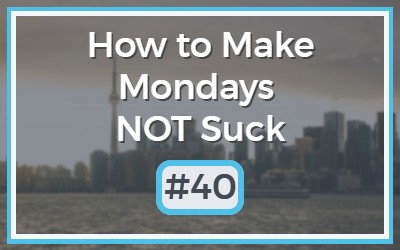 How to Make Mondays NOT Suck is a strategic and sometimes satirical mini-series that will make your Mondays less ...sucky. If this is your first time embarking on a Make Mondays NOT Suck (#MMNS) journey, we suggest that read this first. Because let's face it, as optimistic as we may be, we still think that Mondays Suck
Waking up feeling like you've been hit by a bus (without actually knowing what it feels like to have been hit by a bus), we stumble out of bed, 12 minutes past our absolute last alarm. Eyes half open you
Rest assured that the next holiday weekend is merely 18 days away.. (and you couldn't come a day sooner Labor Day Weekend!!)
Needless to say, we've ventured out into civilization and are now looking to learn:
How to Make Mondays NOT Suck THIS WEEK
Going Shopping on Lunch
Sometimes waking up on Monday Mornings includes a five minute stare at the ceiling, going over all the things you didn't do on Friday, and then again on Sunday Night (because Sunday Scaries were at an all time high)
That's why this week's #MakeMondaysNOTsuck is helping to alleviate some of the burden of your week by committing to taking care of some things during your lunch hour.
Granted: you're going to have some limitations when it comes to shopping for perishable items or anything of bulk nature if you do not have access to your living space and/or car (which sometimes tends to be the same difference) on the way back to work. With that being said, lunch hour is a perfect opportunity to kill two birds with one stone.
We are consumers. We're the by-products of a lifestyle obsession....We buy things we don't need, to impress people we don't like

Tyler Durden, Fight Club
We know. We don't actually NEED half the stuff that we tell ourselves that we "Need".
When thinking of need vs. want, remember to shop in survival mode. If you don't splurge on that box of Reese's pieces candy, would you be able to survive without it? This one is definitely not a NEED.
Click here for more tips on how to efficiently plan out your lunch-time shopping trip.
So go out into this week, happy shopping and reflect on that quote from Tyler Durden.
Join the #MakingMondaysNOTsuck Movement with us!
Tag us on instagram @manifestmillennial with the hashtag: #MakeMondaysNOTsuck to be entered to win a FREE #MMNS Merch pack (Coming SOON!)
And don't forget to vent to us about why your Monday Sucks, because just like this tweet (follow us on twitter) describes, we STILL think that Mondays generally suck.
Shooters shoot, and closers close. Go out there and crush this week.
You're right. Now take me back to the Make Mondays NOT Suck Archives